Just a couple of months ago, in between sips of the morning cuppa that she shares with me, Sumitradi enquired about the box: "Aap laati nahin wo dabba aaj kal (You never get that box these days)". The box of my maid's affection is actually a modest cardboard snack pack, at times from Bengali Market's Bengali Sweet House, at others from Gol Market's Kalewa, that we used to be served at the film previews held at the Films Division Auditorium, Mahadev Road. Some dabbas were small, frugal. Others huge, overflowing with goodies. The contents inside were more less from this long list: veg sandwich, samosa, kachori, paneer pakoda, dhokla, chips, gulab jamun, rasgulla, chamcham with cold drinks on the side and also tea in winters.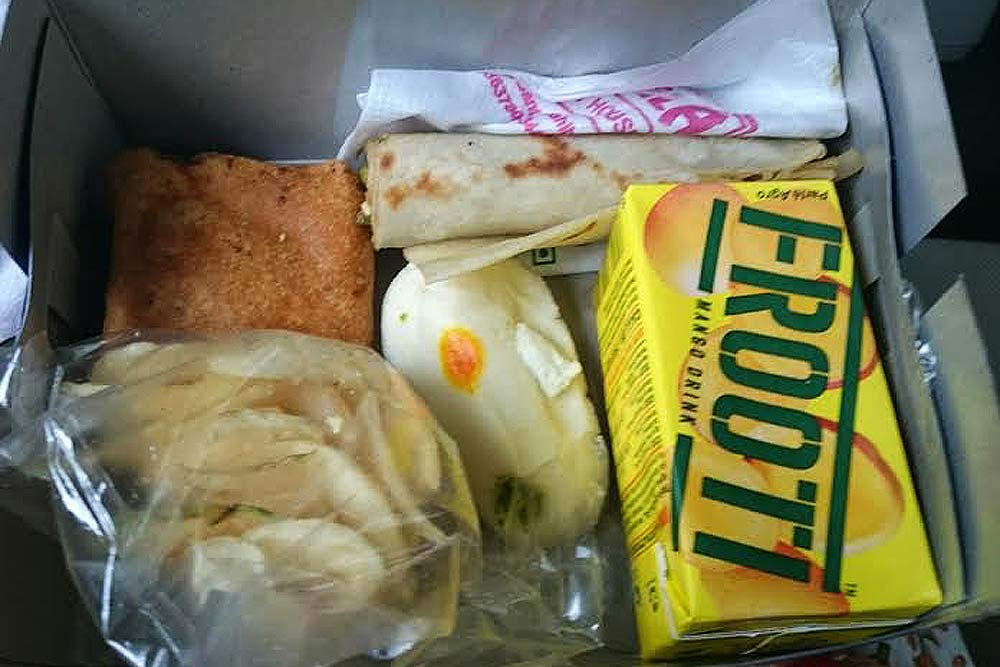 We critics, or let me just say I have been in love with those boxes for the longest time. They provided a welcome respite in the brief 10-minute interval if the film was proving to be unbearable and added more spice to it if it was already good. Amongst my Dilli film critics circle, Arnab Banerjee would be the first to grab them, not just for himself but the rest of the gang as well, Anna Vetticad would invariably polish off the mithai first, Shubhra Gupta would nibble at the paneer of the pakoda after systematically removing the besan batter coating. On the other hand I would be more interested in the crispy exterior of the samosa than the spicy filling. And I am not even mentioning Suparna "currently on a diet" Sharma here lest any association with food proves injurious to her health programme.

Many of these screenings have lead on to extended gossip sessions over chai and sabudana vada in Indian Women's Press Corps or tea, pakoda and egg-on-toast at the Press Club of India. Everything would be discussed in detail, from the state of the nation to the state of our relationships to the state of our cars but never ever the state of the film we had seen together just a while ago. It's a tradition we continue to hold on to dearly: to each of us our own film.

At times we would be (and still are) treated to some home-made specialities: Shubhra's upma, Arnab's parantha and aloo sabzi and Suparna's salads. I would be too satiated then to even look inside the dabba. It would be saved for the maid who in turn happily took it home to her 10-year-old son. At times a filmmaker would decide to change the menu and Domino pizzas would be delivered much to the happiness of most. I'd miss and crib about my desi samosa-GJam combo but the 10-year-old would be ecstatic at the unexpected pizza treat he would get from Namrata didi.

Some filmmakers, like Subhash Ghai, would do things in style. No dabbas. A buffet, with fancier snacks like kathi rolls and kebabs, would be laid out for us in the guest room complete with nice crockery-cutlery. The most memorable foodie experience in my entire career as a critic happened thanks to North India's leading distributor-exhibitor Sanjay Mehta, of Bobby Enterprises. Visiting his office in Bhagirath Place hasn't just been enlightening in terms of his incredible perspective on the film trade but also in how he has helped me gain knowledge about Old Delhi khana. He was the one to have introduced me to the dahi bhalle of Natraj brought right to his office on one of my rare trips. So one fine day Sanjay decided to transport the entire Chandni Chowk to Mahadev Road. Several stalls of the famous street food and chaat were set up and we ate as though that was what we were there for. Not the film. The interval went beyond the allocated 10 minutes to almost half an hour, perhaps more. The taste of the mouthwatering dishes, from the pani-puris, tikkis, dahi bhallas to the cheelas, still lingers on. But I have never been able to recollect which film was it that we saw that evening.

Then, one fine day, Films Division auditorium, FD as we call it, shut down for a makeover. With that the magical snacks dabba went away from my life and Sumitradi also stopped enquiring about it after a while. Afterall we both had to move on.

The previews are now arranged for us in the most delightful Delite Diamond whose interiors look like a leftover of the Mughal-E-Azam sets, complete with painted domes and fancy lights. It is famous for its maha samosa that is equal to four of the regular sized ones. Even the vadas and patties served here are giant but the absolute favourite is the machine-made coffee. The kind that is still served in North Indian weddings. The coffee which was called "Expresso" long before India woke up to the real coffee culture and figured that "Espresso" shots came without milk and that our own frothy Expresso was actually a desi variation of the Cappuccino.

Even better than Delite Diamond is the main Delite single screen hall and its big old-fashioned, wood-panelled cafetaria next to the balcony. It has some old world delights on the menu — like chuskies, lemon soda and kala khatta. Hardly any previews are held there now but in the good old days when it was our regular haunt the food was always impeccable. Once we were served piping hot idlis with fresh cocunut and mint chutneys for a 10am show. The best brunch and film combo that I have ever had.

No wonder then that the standard Coke-Pepsi and popcorn-burger combo we are given whenever a screening happens in any leading multiplex has always felt like a bit of a downer when compared to the range of food we've been spoilt with over the years. Having said that DT cinemas still comes up trumps with its extensive but expensive menu. It's cheese pizza with cherry tomatoes topping and the bel sharbat can make a trip worth it, even in the scorching heat.

Meanwhile, the good news for us is that Films Division has opened again, all plush and renovated. We saw NFDC's Qissa there the other day, gathered together in the neat new cafetaria, went nostalgic about snacks ka dabba even as we pulled NFDC's Vikramjit Roy's leg for serving us such tiny pastries and muffins and micro-mini sandwiches (yum nonetheless).

Yesterday at the preview of Jai Ho Democracy that elusive dabba also finally made a comeback. All the way from Bangla Sweets. I thought of Sumitradi and her 10 year old but hunger got the better of me. Dhokla, mini paneer kathi roll, paneer pakoda, chamcham were all polished off in a jiffy by a lunch-deprived journo. Sumitradi and her son will have to wait. Not for very long though.